Sometimes you will need to save the data to an XML or JSON file (eg. if you are going to importing the infant records into another database). If you only wanted to export a certain set of patients you will need to edit the filter on the patient log until only those patients displayed. For instance, if you only wanted to save the 2018 patients then you would select 2018 from the birth year drop-down on the patient log before exporting the data.
The steps to do this in eNICQ 6 are as follows:
1. Open the Advanced Menu Options but clicking on the gear icon in the top right and selecting Export Infant Records from that menu: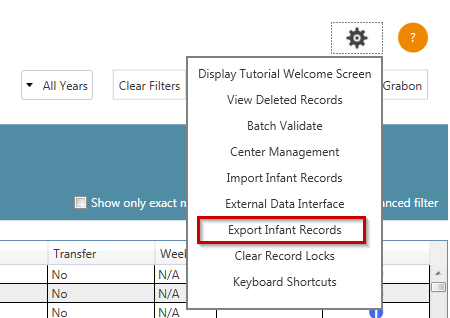 2. On the window that pops up there are two selections to make. If you set the filters on the Patient Log to display only a certain set of your patients then you would select "Current filter" under "Choose which records to export" otherwise select "All Records"there.
Then under "Choose export file format" select whether you wish to save it as an XML file (if you are going to open in Excel then this would be the correct choice) or JSON.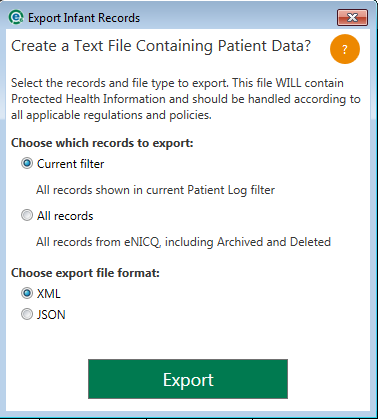 3. Finally, select where you are going to save it and, if you wanted to, rename the file. The default name will always be "export".