Question:
Where can I find the eNICQ 6 License Key?
Overview:
The eNICQ 6 license key is necessary to run the eNICQ 6 installer (it is not necessary to run the MSI). Please see the eNICQ 6 Installation Guide on when you would enter that during the installation. Anyone with an account to the Member Portal with the Data Viewer role can locate it.
The license key for eNICQ 6 can be found in the Data Management section of the Member's Area. If you do not have a login for the Member's Area or permissions to view the Data Management section please speak with your VON Services Administrator. If you are a VON Services Administrator you just need to give yourself the Data Viewer role from the Manage Users section of the Member's Area.
If you are an IT professional and are unfamiliar with VON's online services, please consult your current eNICQ user. Most eNICQ users have access to our online services or can identify the staff who do have access for you. Vermont Oxford Network staff cannot provide your license key over the phone.
If you are a VON Services Administrator for your center, your IT staff could be given the Alternate Data Contact role in order for them to retrieve the license key. The Alternate Data Contact role will give them access to Data Management without giving them access to Nightingale. In order to give them this role, please contact your Account Manager for the appropriate change form. It is much simpler to login to the system yourself and retrieve the license key for your IT professional.
Answer: To locate the License Key first log into the Member Portal, click on the Data menu in the navigation bar at the top of the page, and select Data Management: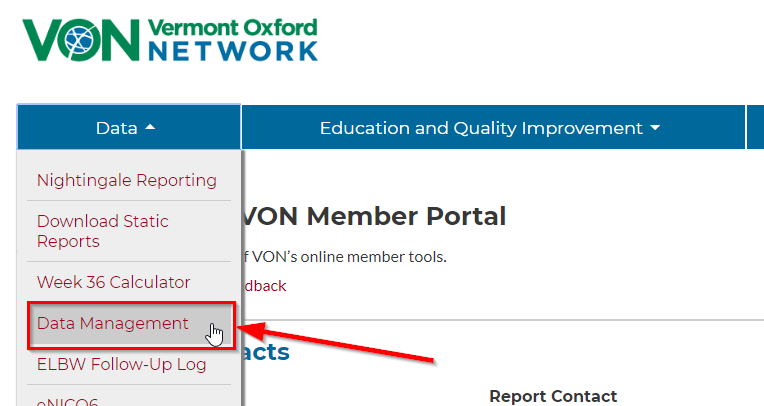 .
When that page loads look at the bottom of the Quick Links under Electronic File Submission for the eNICQ 6 License Key link and click that:
The only thing on the eNICQ 6 License Key page will be the license key. It is more complex than the old EDS key so it will be easiest to copy and paste it. If you have multiple centers to add to your eNICQ 6 database you will need to get the License Key for each center.